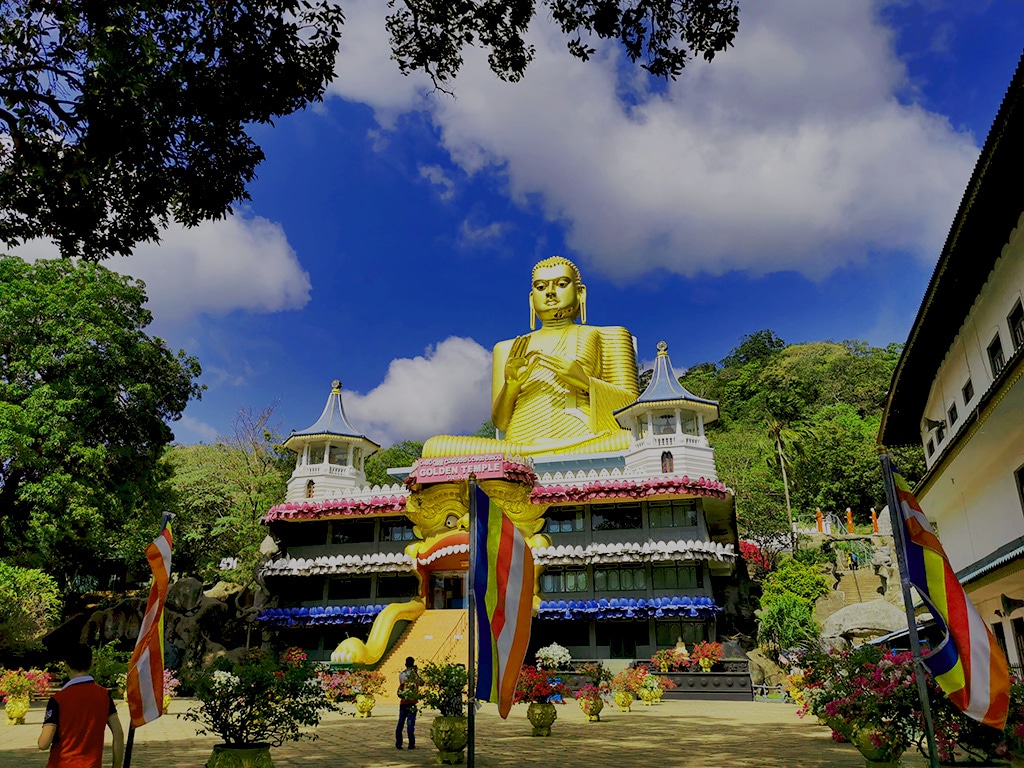 Although there are numerous cave temples in Sri Lanka, the Golden Rock Temple a few kilometres south of the market town of Dambulla, is its most famous and spectacular The town is about 72 kilometres north of Kandy, and the temple is in a cave under a range of granite hillocks which rise 160 metres above the surrounding plains.
Golden Rock Temple is believed that when King Vattagamini was fleeing from his enemies in the 1″ century BCE, he was sheltered by ascetic monks who lived in these caves. After returning to power, he came back to build a large rock temple in gratitude to the monks. The caves were further enlarged by King Nissankamalla in the 12th century, with five temples built into them.

There are more than a hundred statues of the Buddha within the temples, along with a few kings and various deities. There are also murals on the walls depicting scenes from the Buddha's life, some painted as recently as the 18 and 19th centuries, and these cover an area of 2.100 square metres. More details
Murals of Golden Rock Temple
The Golden rock temple has five cave temples of very large size. The walls and the ceiling of these caves are filled with paintings of hundreds of Buddhist statues. From time to time, however, these murals have undergone refinements and changes. These murals spread over an area of ​​20000 square feet. Apart from the events and Jataka stories of Buddha's character, a large number of Buddhist history stories have been painted in the Dambulla Vihara.

Vijayakumar's Ceylon tour, the Dutugemunu Elara War, the sacred relics of the Ruwanweli Maha Seya. The sacred Bodhi Tree of the Buddha is some of them. Most of these sculptures belonging to the eighteenth century are found in Maharaja Lane and Aluth Viharaya. It is believed that this painting was made by the Nilagama painters who were a generation of Kandyan artists. This painting is drawn according to the folk arts and folk arts of Kandy.